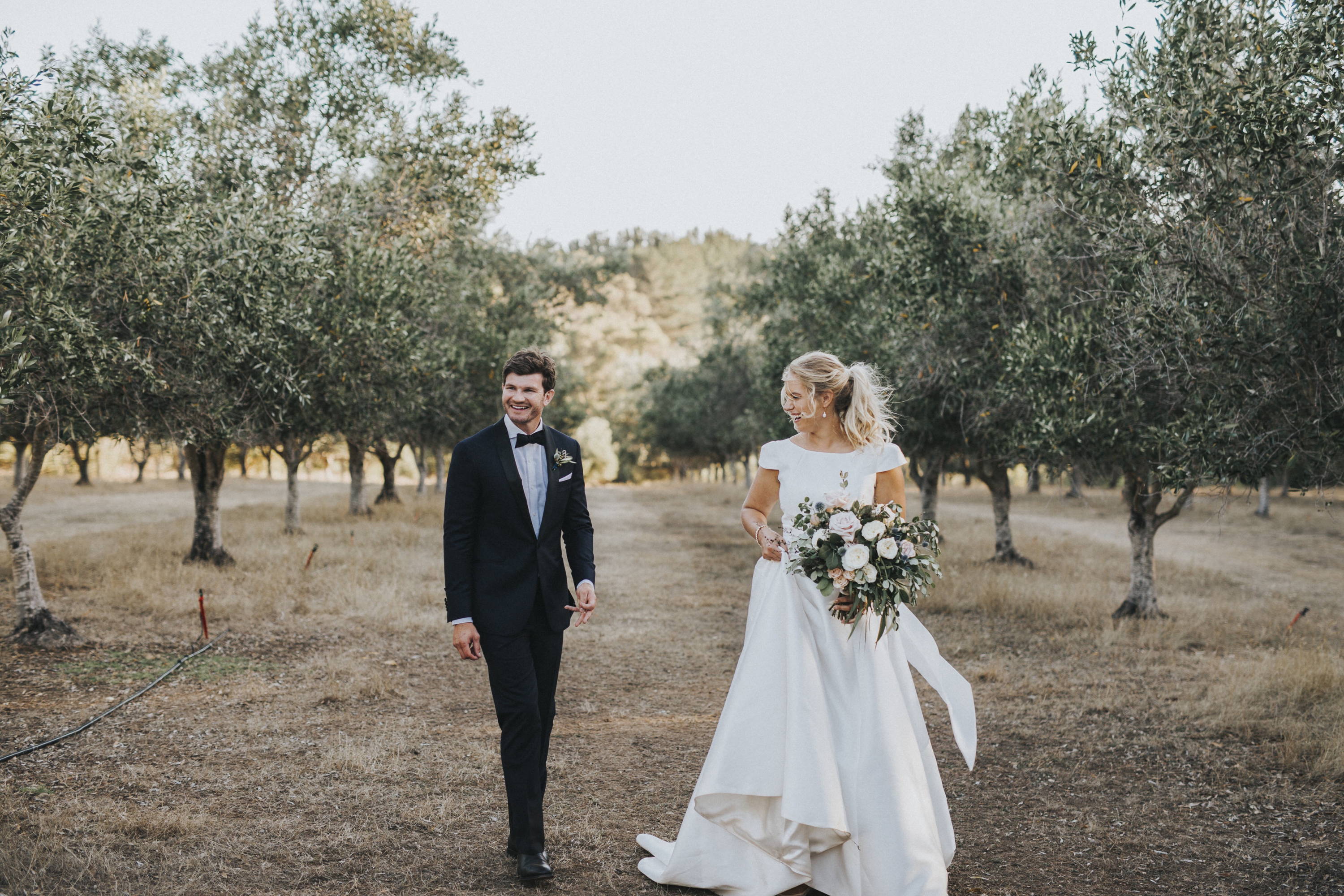 OLIO BELLO - THE ROMANCE OF THE GROVES
For effortless, organic style fused with rustic, European charm - we invite you to fall in love with Olio Bello and the breathtaking beauty of a 320 acre olive farm nestled in the heart of Margaret River – only minutes from Gracetown beach.
With undulating landscapes and sweeping views, Olio Bello is home to 8,000 olive trees, 14 unique olive groves, alfresco Cafe and luxury Lakeside Glamping accommodation. It's a blank canvas, limited only by your imagination .
Our story is simply one of romance and passion – it is seamlessly entwined into everything we do. A sustainable and tranquil retreat from the world – where nature takes centre stage and time stands still for life's magical moments. Our gourmet produce is farm-grown, our staff passionately committed and our organic olive oils - some of Australia's most awarded.
Our wedding philosophy is all about family & friends; keeping things simple, connecting with nature and weddings that focus on celebrating rather than spending!  
We are a blank canvas & your very own 'home away from home' in Margaret River on which to build your dream. You can simply layer on as much, or as little as you need to reflect your vision.
When booking a wedding at Olio Bello – you become a part of its magic. It's contagious! Enjoy your own private 'Tuscan' Italian olive grove with private access, 320 acres of scenic photo options, exclusive luxury 'glampsite' accommodation (for up to 18 guests) and a number of unique reception areas.
Partnering with some of the region's finest (marquee providers, caterers, styling, flowers, photography, etc) and work to deliver creative, stylish and affordable weddings that reflect your vision, journey and unique story.
We have a dedicated 'dream team' ready to go, as a one-stop-shop and each wedding is bespoke in its very essence and carefully conceptualised and crafted, one different to the next.
Olio Bello hosts only 10 Weddings per year and offers:
Organic, Rustic, Relaxed Weddings
Olive Grove Ceremonies (private infinity grove or circle of olive trees)
Luxury Lakeside 'Glamping' Accommodation
'Intermezzo' Canapes & Drinks
Courtyard or Olive Grove Receptions
Long Table Lunches or Dinners in the Olive Groves (Italian Style)
Cocktail Soirees in the Courtyard or Cafe Gazebo
Engagement & Proposal Picnics
Elopement Glamping Getaways
Pre-wedding Beauty & Yoga retreats
Post Wedding Brunch or Lunch on Olive Leaf Deck or Cafe
Venue & Concept Planning & Farm Styling support
Book your 45 minute complimentary farm and olive grove tour today
or call and chat ideas, dreams and magical moments in the olive groves
(virtual tour also available via Facetime appointment)
Address: Olio Bello Farm - 36 Armstrong Road, Cowaramup, 6285
Mobile: 0403609439
Email: weddings@oliobello.com
To ensure exclusivity  - Olio Bello hosts only 10 Weddings Per Year
Here's a snapshot of one of the most beautiful weddings, for a truly fantastic and divine couple - who were married at the farm, in the heart of summer.  It was truly an honour to host this special day, amongst many other weddings and we wish all couples happiness, laughter and joy - always!
https://nouba.com.au/margaret-river-wedding-olio-bello/
Please follow us on Instagram and contact us for more photos, ideas, and details on bespoke rustic weddings at Olio Bello.